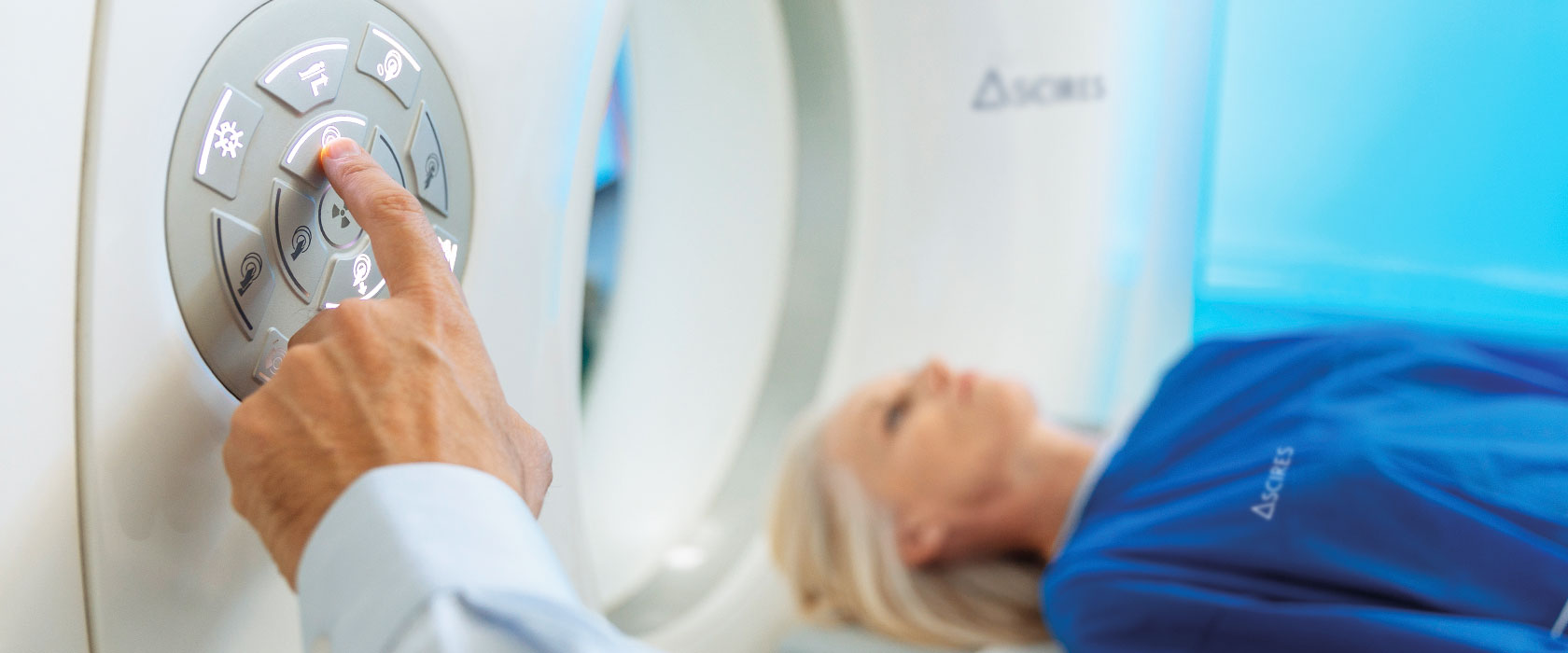 Being pioneers in the implementation of Nuclear Medicine in Spain, we at Ascires offer the first hybrid centre for this speciality and cutting-edge equipment for diagnosis and treatment. A professional team with extensive experience, capable of performing any test in the international Nuclear Medicine catalogue with flexibility and agility, is key to offering early diagnoses and maximum medical precision.
For our track record and specialisation
As a pioneer in Spain in the introduction and development of Nuclear Medicine (1963), the Ascires Cetir team has over 50 years of professional and technological experience in the diagnosis and treatment of diseases using medical isotopes and radiopharmaceuticals.
For our technological power
With the continuous incorporation of state-of-the-art medical equipment: first Magnetic Resonance Imaging in Spain; first Positron Emission Tomography – PET equipment; first PET/MRI equipment, with time of flight, in Spain; and the first hybrid Nuclear Medicine centre (Cetir Ascires Viladomat – Barcelona).
For our flexibility and agility
At our different centres in Spain, we attend to a significant volume of patients each year by carrying out diagnostic tests (Scintigraphy, PET, PET/MRI, PET/CT), radioguided surgery and metabolic therapy.
With our extensive levels of staffing and technology, we quickly conduct any type of scan described in the international catalogue of Nuclear Medicine. In addition, we select the most suitable type of test, according to the patient and the pathology, in order to obtain the maximum in diagnostic precision.
For our treatments
As well as its diagnostic function, Nuclear Medicine also has a therapeutic purpose. The use of radiopharmaceuticals is key in the treatment of hyperthyroidism, thyroid cancer and inflammatory arthritis, as well as in the alleviation of metastatic bone pain.
For our teaching activities
The Ascires Cetir Teaching Unit is one of only two private centres in Spain where the Training of Resident Medical Interns (RMI) in Nuclear Medicine is carried out. During training, we share all our knowledge and experience in addition to all the advances in this speciality. Ascires also collaborates in the training of technical personnel, thanks to the close relationship we maintain with different schools and training centres.
A non-invasive diagnostic technique that consists of obtaining images of the activity and metabolism of the body's organs based on the detection of radiation by positron emitters. Positrons are small particles emitted by a radiopharmaceutical administered to the patient. It is a very useful test for the diagnosis and monitoring of tumour diseases, but also for certain cardiac and neurological diseases, as well as for the study of inflammatory or infectious pathologies. The test can be performed in combination with other imaging techniques, such as Computerised Tomography (CT) or Magnetic Resonance Imaging (MRI).
Hybrid equipment that combines the metabolic information from PET images and the morphological information from high-field Magnetic Resonance Imaging (MRI). This technique is especially indicated for a comprehensive approach when treating cancer patients due to its precise diagnosis, early detection of incipient metastasis and exhaustive monitoring of the effectiveness of the treatment. It is also used in the diagnosis and monitoring of neurodegenerative diseases and in certain cardiac pathologies. At its Cetir Viladomat centre, Ascires has the first PET/MRI scanner with time of flight in Spain.
A technique that uses gamma-emitting radiopharmaceuticals to study the functioning of different organs. A classic example is the assessment of thyroid gland function, which selectively accumulates the iodine that enters the body. Among others, a scintigraphy is also very specific for the diagnosis and extension of bone metastases and cardiac scintigraphy to assess angina pectoris and the extension of a myocardial infarction. Scintigraphy is noted for its high sensitivity and for detecting some injuries or alterations much earlier than other imaging techniques.
PET/CT
Hybrid equipment that combines the metabolic information from PET images and the morphological information from CT imaging in a simple scan. In the evaluation of cancer patients, the information obtained in PET/CT studies is more accurate than PET or CT images taken separately, even when interpreted together. PET/CT scans are especially indicated in:
Early detection of cancer and its extension, as well as the study of the effect of treatment.
Evaluation of patients with memory disorders of undetermined cause, brain tumours or seizures that do not respond to medical treatment.
Evaluation of blood flow to the heart and assessment of signs of coronary heart disease, as well as the detection of different cardiovascular pathologies.
A surgical technique that allows for the detection and identification of the sentinel node in breast cancer, malignant melanoma and other tumour processes. Likewise, it allows for the detection of non-palpable tumours (ROLL technique) by administering isotopes for medical use.
After the radiotracer is injected, a gamma detector probe is used to locate the sentinel node in a minimally invasive way, which in turn allows for the determination of the margins of excision of a tumour lesion. This minimally invasive surgical approach reduces the duration of the intervention and the postoperative period, reducing the side effects of conventional surgery.