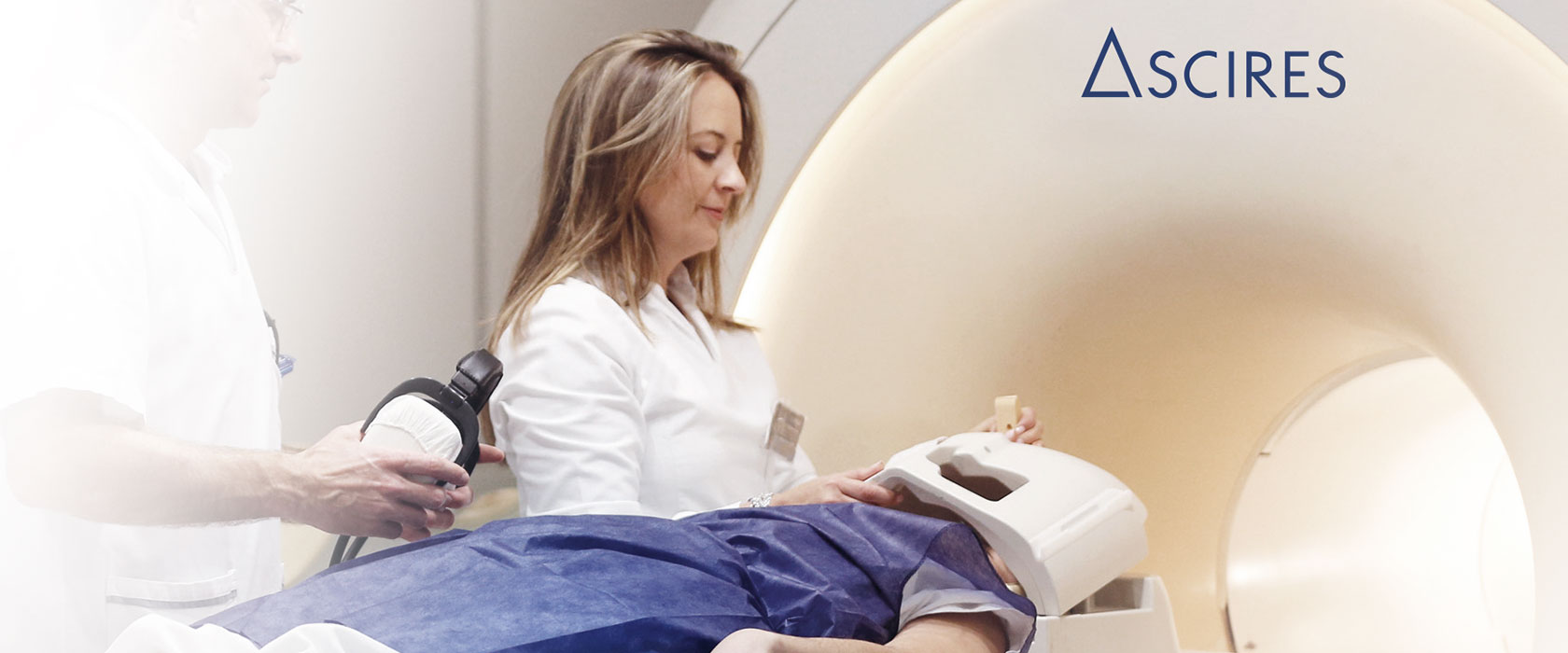 Maximum precision and speed in diagnosis thanks to various factors: cutting-edge technology, a specialised professional team, Artificial Intelligence solutions and genetic analysis techniques. These are just some of the strengths that distinguish the Ascires Imaging team.
For our technology
We have cutting-edge equipment in Imaging techniques, which we have been pioneering for over 50 years in our country: the first magnetic resonance imaging (MRI) in Spain, one of the first computerised tomography (CT) scans, the first digital PET MRI, our Diagnostic Imaging centre with the greatest technological power in Spain (Ascires Campanar Biomedical Clinic – Valencia) and the first hybrid Nuclear Medicine centre (Cetir Ascires Viladomat – Barcelona)
For our human resources
We have a team of professionals with extensive experience, who are highly specialised and are dedicated exclusively to radiodiagnosis. We have 80 radiologists in total, as well as Radiology technicians and assistants, who work in collaboration with engineers, bioinformaticians and doctors from different specialities to offer the most accurate and earliest diagnosis.
Our professional team always works with the most advanced technological equipment and in various medical centres (public and private hospitals as well as own clinics), allowing them to have unique knowledge and experience within the healthcare field.
For our Imaging + Genetics binomial
Ascires is comprised of teams that have been frontrunners in their respective specialities, offering the first MRI in Spain, the first genetic sequencing for clinical diagnosis and the first image-guided radiation therapy.
The advantage of uniting Diagnostic Imaging and Genetics is evident in initiatives such as BrecanRisk. BrecanRisk is a personalised test designed to measure women's predisposition to suffering from breast cancer (low, medium or high risk) throughout their lives. To this end, through an algorithm of its own development, this test brings together global knowledge of breast cancer in both Diagnostic Imaging and Genetics.
For our versatility
We conduct any type of scan described in the international medical catalogue. We develop our Diagnostic Imaging activities in public and private hospitals/medical centres and within an extensive network of own biomedical clinics. This has allowed our professionals to carry out all types of scans and adapt to the different challenges in international healthcare. This valuable experience allows us to conduct all types of diagnostic scans included in international scientific papers.
For our specialisation in Cardiovascular Imaging
The Ascires Cardiovascular Unit is highly specialised in non-invasive cardiovascular diagnosis and has the most advanced technology in the country in cardiac magnetic resonance imaging, cardiac computed tomography and nuclear cardiology, including cardiovascular PET/MRI scans.
Ascires is the only centre in Spain certified by the European Society of Cardiology as a cardiac magnetic resonance imaging (CMR) laboratory in general CMR, stress CMR (a technique which allows the diagnosis of the presence of myocardial ischaemia) and CMR of congenital heart defects. Today, only 2 other European centres (in the Netherlands and in Germany) have this triple certification. Likewise, all the physicians in the unit are cardiologists who hold the highest European certification in echocardiography, cardiac magnetic resonance imaging and cardiac computed tomography.