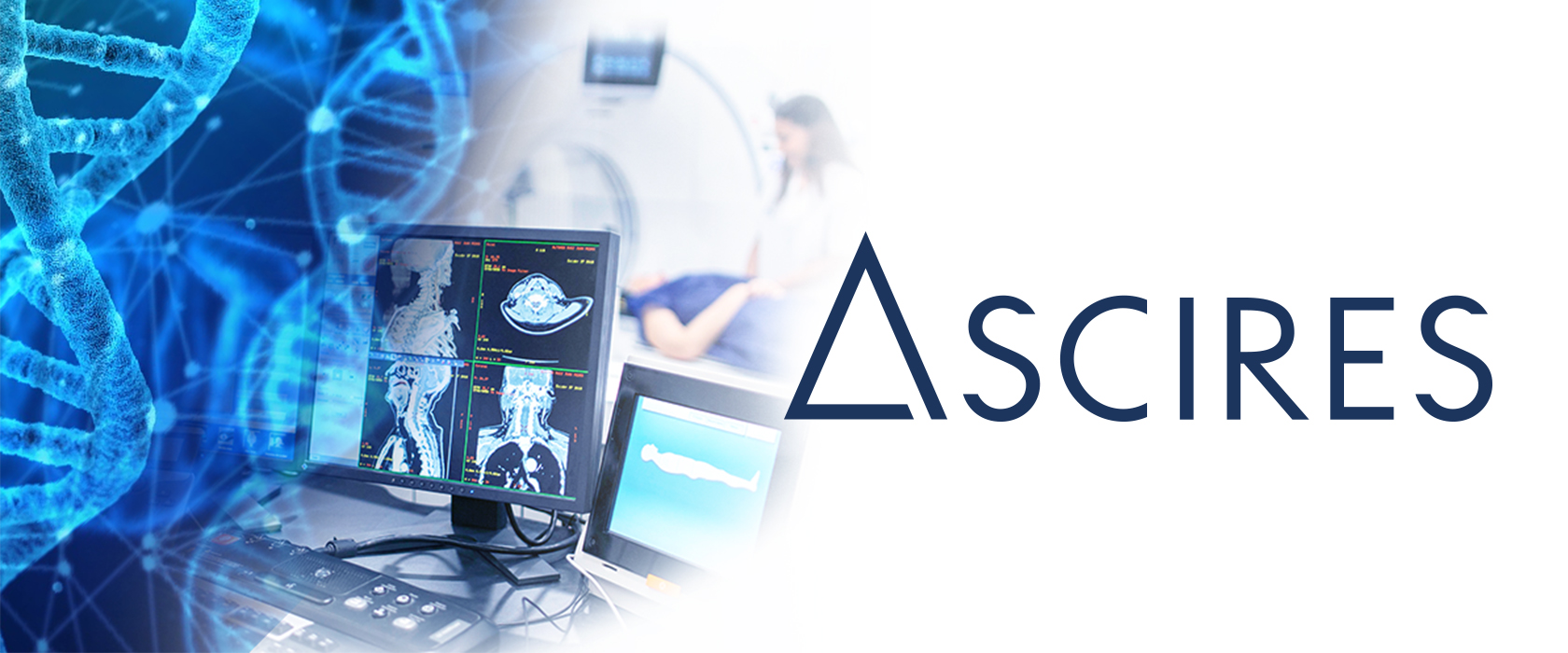 Ascires is Spain's leading biomedical group in Genetics, Diagnostic Imaging and Nuclear Medicine.
About Ascires Biomedical Group
With a team of over 700 professionals, Ascires focuses its activity on precision diagnosis and individualised treatment. By volume of annual patients treated and medical technology, we are Spain's leading biomedical group in Genetics, Diagnostic Imaging and Nuclear Medicine, as well as a benchmark in Radiation Oncology. We treat more than 500,000 patients a year in public and private hospitals where the group provides its Diagnostic Imaging and Genetics services and in our network of Ascires biomedical clinics.
With over 50 years of experience, Ascires reinvests 20% of its profits in R+D+i and dedicates an average of 65,000 hours per year to research. An investment effort that allows us to incorporate the latest advances in biomedical technology, both in Genomics and Diagnostic Imaging and Radiotherapy.
Ascires Biomedical Group is made up of three pioneering teams in Spain in their respective fields: the first massive genetic sequencing for clinical diagnosis (2009), the first magnetic resonance imaging scan (1983) and the first image-guided radiation therapy (2005). Our vocation is always aimed at making the latest medical advances accessible to the patient.
The biomedical group is currently applying Artificial Intelligence (AI), big data and Deep Learning to all its lines of activity with the aim of maximising the precision of diagnoses and treatments.
Introduction to the Valencian Community of the first MR-guided Neuro-HIFU treatment.
AsciresTools: Artificial Intelligence applied to medical imaging to maximize diagnostic accuracy.
ERESA optimizes treatment in radiotherapy oncology using Bolus 3D application.
Birth of Ascires.
ERESA contributes in the first open-heart operation on a newborn using a 3D printed replica as a guide
Big Data applies to Precision Diagnostics.
Birth of the Fundación QUAES, promoted by CETIR and ERESA .
ERESA is a pioneer in Europe in the use of Intensity-Modulated Radiotherapy (IMRT) for the treatment of cancer.
ERESA incorporates the first Valencian Community Digital Linear Accelerator for Radiotherapy.
CETIR obtains ISO certification for all Care Services.
CETIR fue pionero con la primera Resonancia Magnética en España.
CETIR creates the first Central Radiopharmacy Unit in Spain.
CETIR creates the Neuroimaging Research Unit.
CETIR was a pioneer with the first Magnetic Resonance Imaging machine in Spain.
Birth of the Radiological Group, the forerunner of ERESA in Valencia.
Clínica ERESA was one of the first to install a CT machine in Spain.
Birth of CETIR in Catalonia.
ASCIRES, pioneers in the incorporation of PET/MRI in Spain.
Nacimiento de CETIR en Cataluña
Nacimiento de Grupo Radiológico precursor de ERESA en Valencia, una de las primeras en instalar una TC en España